Buenos Aires truly comes alive as the temperatures rise, and people head for the city's many parks and squares. Spring may be the perfect time to visit the city. Temperatures are warm but not too hot, the trees are in blossom, and there's a buzz of life and energy in every street. Here are just a few of the reasons to visit.
The city in bloom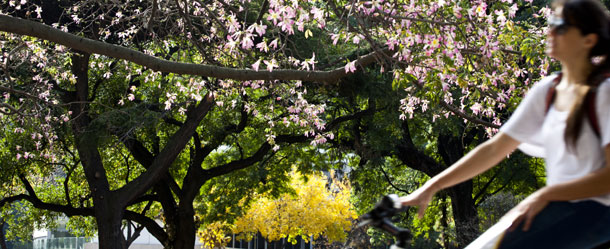 Buenos Aires is full of trees, and the period from late September until late December sees them blossom in all their glory. Most characteristic are the jacaranda with their violet petals, and the yellow tipas, and pink, red, yellow and white lapachos.
People watching in the city's parks


Rather than heading to a café for a spot of people watching, perhaps the best place to get a feel for local life is the city's parks, and in spring the parks in Buenos Aires heave with activity, people go to meet friends, drink mate, sunbathe and practice sports like rollerblading, cycling and running. The Parque Tres de Febrero, with its rose garden and lakes, is the most popular in the city, but the botanical gardens, the Parque Centenario, Parque Lezama and squares like the Plaza Francia in Recoleta are also great places to relax porteño-style.
Plenty of opportunities to keep active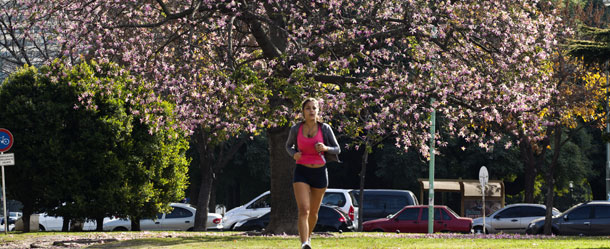 Porteños love sport and spring sees locals hit the street en masse to get fit in time for summer. Join the crowd by renting a bike and heading for the Costanera Sur nature reserve, or go for a run through the parks of Palermo. And don't forget that the city tourist board offers free guided running circuits, as well as bicycle tours of Buenos Airesneighbourhoods and even rowing tours in Puerto Madero. Note that some activities require pre-inscription. And if you're a serious runner, why not sign up for the Buenos Aires Marathon? It's the biggest marathon in the southern hemisphere and attracts runners from all over the world. This year's event takes places on October 9, from 7.30am.
Free walking tours


Take advantage of the spring climate to join us on one of our free guided walking tours of Buenos Aires. We cover a different neighbourhood each day of the week, taking in all the major landmarks and revealing the city's hidden stories. Tours cover such emblematic areas as the Plaza de Mayo, La Boca, San Telmo and more. And for something more challenging, or for those who want to see as much as possible in a single day, check out our free Buenos Aires urban trekking experience.
Festivals and events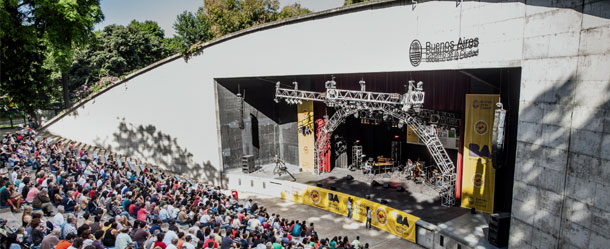 The spring calendar is packed with cultural events. Things starts off with a bang, with Ciudad Emergente, an annual festival of up-and coming-bands and artists at the Centro Cultural Recoleta. Then in November, there's the Jazz festival (pictured) at venues throughout the city. As for art, there are exhibitions galore. The modern Fundación Proa, with its outstanding terrace view over the port of La Boca, is hosting a retrospective exhibition of work by Kazimir Malevich – one of Russia's greatest contemporary artists and founder of the avant-garde Suprematist movement. The MALBA has a Yoko Ono retrospective until October 31, and from October 14, the first ever museum exhibition of Argentine sculptress Alicia Penalba, and the Museo de Bellas Artes has an exhibition of sculptures by Noberto Gómez from October 11. On top of that, there's the city's regular roster of sensational, never-ending nightlife, with enough bars, restaurants, nightclubs and milongas to see keep you going until dawn.
Al fresco dining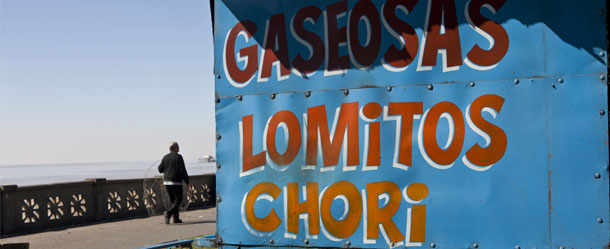 Whether its at a pavement table or a hidden patio at one of Palermos' many restaurants, bars and cafes, or heading for the riverside and grabbing a choripan (a beef sausage sandwich best served with firey chimichurri sauce) at one of the rustic food stands on the Costanera Norte or Costanera Sur, eating in the spring sunshine is a true pleasure. Other options for an al fresco bite to eat include the popular touring organic market BA Market, which pops up at different parks and squares around the city at least twice a month, and the monthly producers' market, held in the Agronomia district on the second Saturday and Sunday of every month.
And al fresco shopping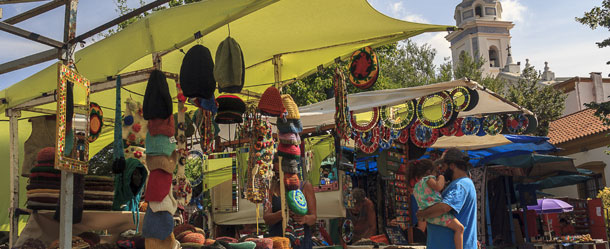 Escape the shopping malls and hit the streets to find that perfect souvenir. Buenos Aires has a wealth of outdoor markets and craft fairs including the famous arts and antiques market in San Telmo every Sunday (in Plaza Dorrego and Calle Defensa) and the Plaza Francia craft market in Recoleta every weekend. For something truly unique, and a chance to catch some old-style Argentine folk dancing and gaucho traditions, head to the Feria de Mataderos on a Sunday. There you'll find hundreds of stalls selling traditional Argentine products including leather goods and mates